"People cry, not because they are weak, it is because they have been strong for too long."

—
Johnny Depp
(Actor)
"How can we not talk about family when family's all that we got?."

—
Wiz Kalifa
(Rapper) in "See You Again"
"Those who are crazy enough to think they can change the world, are the ones who do."

—
Steve Jobs
(Entrepreneur)
"Good people are always so sure they're right"

—
Barbara "Bloody Babs" Graham
(Criminal; Executed via Gas Chamber)
"My father values talent. He recognizes real knowledge and skill when he finds it. He is color blind and gender neutral. He hires the best person for the job, period."

—
Ivanka Trump
(U.S. First Daughter; Businesswoman; Model; Entrepreneur)
Hello There!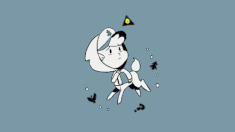 Good day! Random User, this is my User Page! You can stay awhile and get to know me, or you can leave me a message on my

Talk Page

!Do explore my profile to know more about me if you want!
colspan="3" style="border:3px outset purple; border-top-left-radius:5ex; border-bottom-left-radius:.9ex; -moz-box-shadow: 0 0 1px 5px; -webkit-box-shadow: 0 0 5px 1px; box-shadow: 0 0 5px 1px DarkSlateGray; border-radius:4ex 1ex 1ex 1ex; background-color:#00BFFF; padding:15px; -moz-border-radius: 0em 0em 0em 0em; -webkit-border-radius: 0em 0em 0em 0em; border-radius: 0em 0em 0em 0em; -khtml-border-radius: 0em 0em 0em 0em; -icab-border-radius: 0em 0em 0em 0em;"|


Hi! Template:Visitor, I'm Aphrodite Bellza, you can either address me by my first name, last name, or AB would do. I am a 14 year old Singaporean-Chinese girl. I am a huge fan of Marvel and DC and I love TV/Cartoon shows like Game of Thrones and Gravity Falls and anime like Attack on Titan, Death Note, Fairy Tail (formerly) and of coarse The Promised Neverland~. My real name can be found in that box above. I do apologize for being harsh or that I sound weird when talking to you guys. I am a rather quiet person in reality. (๑◕︵◕๑)
I'll try the best I can to stay active and contributive to this wikia as possible. I have upcoming exams in reality so I will not be active for certain period of time. But I WILL be active during November onward, since it is when my exams are all over.yeah, I know, I sounded dumb...
Click the beautiful red button;

    

I dare you.

Mystery Prank!?
1. What are my favorite anime series ?
Answer: Well, I used to be a loyal fan of Fairy Tail, but it recently disappoints me with its chapters so I am not really a fan now. There are popular anime like Attack on Titan and Death Note which I like but I am not really into those series cuz they are not really my type.
I can say I KINDA follow One Punch Man, cuz that show is funny. Now recently, I like this Chinese anime The King's Avatar and this newly released manga The Promised Neverland.
2. What are my favourite cartoons ?
Answer: I find Gravity Falls as part of my life! That show is perfection! If you do not know GF, I highly recommend you to watch this show.
I also like Avatar: The Last Airbender, I like how it is inspired by Chinese culture and the seriousness of the plot is interesting to watch.
Others which I like are We Bare Bears, The Loud House and maybe Star vs the Forces of Evil.
3. Who are my idols ?
Answer:
1. Camila Cabello
2. Ivanka Trump
3. Dwayne "The Rock" Johnson
4. Emma Stone
5. Melania Trump
Yeah...mentioning 2 Trumps might get you triggered, but these two really aren't as bad as Donald.
4. Favourite Colors?
Answer: Black, Blue, White
5. Things I like?
Answer: Drawing, reading, anime (sometimes), cartoons, Game of Thrones, money, studying (depends...), China (my hometown), architecture
6. Things I dislike?
Answer; Some Starco shippers that are just too much, people too attached to anime, internet trolls, doing badly in exams, bullies, people who swears a lot
7. Describing myself?
Answer; I am a Chinese-Singaporean, middle school student. Sassy, two-faced, sensitive, kind (when I wanted to), rebellious, fragile, self-righteous, pessimistic
Q=8. What are my favourite songs?|A=Answer: Fight Song, Blank Space, Bad Things, Salute, basically any songs that I find good.
Poll
I had no idea what to add for this section...

<iframe src="http://www.staggeringbeauty.com/" style="border: 1px inset #ddd" width="498" height="598"></iframe>
Community content is available under
CC-BY-SA
unless otherwise noted.