"
Self-made equipment weren't necessarily powerful, but all powerful equipment were self-made.
"

—Popular Glory saying , Chapter 6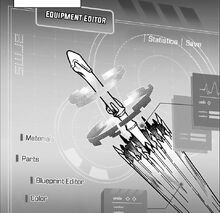 The highest grade equipment that Glory has to offer. It uses equipment and materials to construct the desired equipment. Not many players have access to this weapon grade as it is player-made through the equipment editor.[1] Very few players know how to use it as it requires a firm understanding of how the game works. One misstep could cause the equipment to fall apart, thus ending as a failure.
Blueprints can be used to save progress on a Silver Equipment for future use or reference.[2] They can be stored in the equipment editor. In there, they do not count as an item. Thus, they can be transferred between servers unlike normal items.[3]
Until level 50, Silver Equipment uses normal server uncommon materials. At level 55 and higher, the strongest Silver Equipment uses Heavenly Domain's uncommon materials, which require a different mold than the normal server's uncommon materials. The player must make small adjustments to the Heavenly Domain's uncommon materials and the mold to successfully upgrade the Silver Equipment.[4]
Silver Weapons
| Weapon Name | Weapon Type | User | Class |
| --- | --- | --- | --- |
| Aqua Lightning | Light Saber | Go Forth | Spellblade[13] |
*-* All equipment on the account were disassembled to arm Loulan Slash.
Silver Equipment
Equipment Name
Equipment Type
User
Class
Hood of Sins
Headwear
Windward Formation
Warlock
Endless Sorrows
Cloak
Soulful Short Boots
Shoe
Ghost Spirit Armor
Upper Body
Lord Grim
Unspecialized
Folding Cloud Boots
Shoe
Continuous Thunder
Waist
Dust Dawn
Cloak
Shattered Divinity
Badge
Hurricane Ring
Left-hand Ring
Gallery
References
Community content is available under
CC-BY-SA
unless otherwise noted.